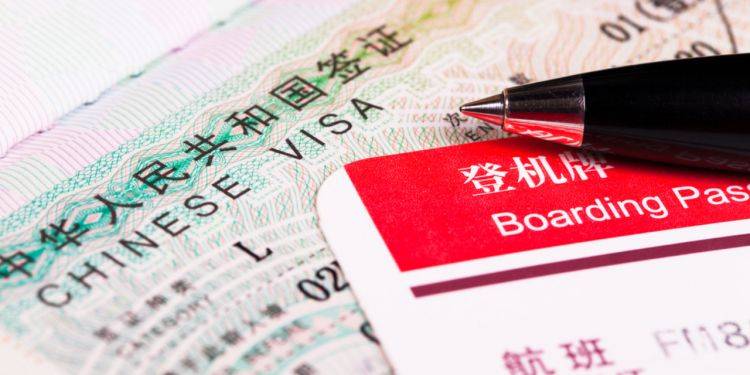 Since the Chinese visa policy has been continuously changing, many applicants have found it confusing and challenging to prepare an application without making mistakes or missing documents, causing delays in securing a visa for China and other destinations. To help our clients with the increasingly complicated process, we offer these Visa Services to make sure you get the right process done at the right time.
We can apply for your Residence permit "Z" visa for China and provide extension, transfer, and renew visa services. We have special services that include visas for the USA, UK, Europe, Canada, or any country in the world you wish to travel to. We can help you get a Visa.
There are three types of work permits in China
High-end talents, scientists, leading talents in science and technology, international entrepreneurs, special talents, etc. that meet the needs of China's economic and social development, as well as talents that meet the criteria of foreign high-end talents for counting points.
1. Selected into the domestic talent introduction plan
2. In line with internationally recognized professional achievement recognition standards
3. Foreign talents in line with the market-oriented and encouraged positions
4. Innovative and entrepreneurial talents
5. Excellent young talents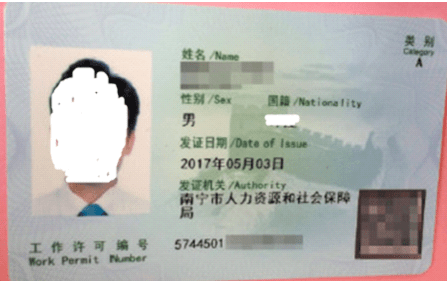 Foreign professionals, who are in urgent need of China's economic and social development
1.Foreign professionals with bachelor's degree or above and relevant work experience of 2 years or above
2.Skilled personnel with international general vocational skill qualification certificate or in urgent need
3.Foreign language teaching staff
4.The average wage income shall not be less than 4 times of the social average wage income of the previous year in the region
5.Special personnel and project implementation personnel in line with the provisions of relevant state departments
6.The point counting integral is more than 60 points
Other foreign personnel who meet the needs of the domestic labor market and meet the national policies
1.Foreign personnel who meet the current regulations on the administration of foreigners' work in China
2. Foreign personnel engaged in temporary and short-term work (no more than 90 days)
3. Personnel who implement quota system management, including foreign youth who come to China for internship according to intergovernmental agreements, foreign students who meet the requirements, foreign graduates from overseas universities, foreigners working in special fields such as ocean fishing, etc
Tips for Visa Application
In recent years, in order to promote the development of tourism, countries have withdrawn a lot of friendly and favorable policies, but on the contrary, the first step of travel visa, consulates of various countries have gradually tightened the policy, and the refusal rate has shown a rising trend. Looking at how everyone else can go on a trip without a plan, but you are afraid to apply for a visa because you are afraid it will be refused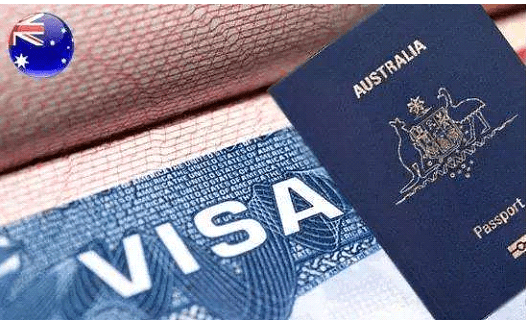 1. The applicant's travel record
Consulates of various countries, especially developed countries, such as Schengen, the United States, Canada, Australia and New Zealand, have rich travel records that will greatly increase the rate of applicants. From the travel record, the visa officer can see that the applicant not only has sufficient financial resources to cover the expenses of the trip, but also is very helpful for the visa officer to believe the purpose of the trip. So before applying for a visa from some developed countries, why not enrich your travel record first?
2. Binding force for the applicant's return
In addition to the travel record, the visa officer will also make a judgment based on the binding force of the applicant's return.Binding force includes family, society, economy 3 respects.
(1) Family: Do you have relatives in the country you are visiting? The present situation of relatives; Do you have companion? Relationship with companion, etc.
(2) Economy: Whether you have a stable income, Whether you pay for the trip by yourself, etc
(3) Social aspects: Company background, Position, How long have you been working, etc.
Maybe you will have some doubts, is the purpose of travel will be fake? Due to the need for more materials when submitting the visa, many applicants will bother and try their best to provide the least amount of materials. Obviously, the purpose of the trip is to visit relatives and friends, but relevant materials of relatives and friends are not provided in the materials. You just mention that the length of the trip, but do not mention which city you will visit. The above conditions are all factors that lead to visa rejection. In order to avoid our application being rejected, we need to provide real materials, detailed travel plan and real travel purpose to obtain visa protection.
Many applicants are aware of the possibility of a telephone survey conducted by the consulate during the visa application period, but most do not pay attention to the situation. Met a strange call think that is a fraud call and refused to answer, in the answer hesitate to answer, the answer information and the submitted materials are not consistent, the preparation of materials and travel because of the telephone investigation caused by visa is not worth the loss! So the applicant not only must know his submitted materials, but also can carry out a backup, in the telephone survey can answer.
You can extend your work permit when you are abroad
First, the extension of work permit is divided into two parts
1. Work permit (operation can also be carried out outside China)
2. Resident permit (need to enter China)
1. Extension of work permit
Information required:  Applicant's latest visa page
Processing time: 15 working days
After the applicant extends working card, foreign affairs special bureau will issue a new approval administrative permission decision form, then can go to immigration apply for the new resident permit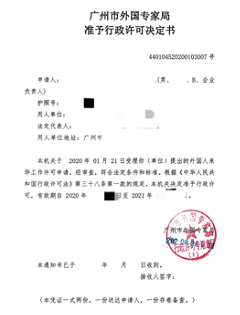 3) Temporary accommodation registration form
4) Work permit & decision on approval of administrative license
Entry-exit will call the applicant and ask for other information that may be required
Processing time: 7 working days.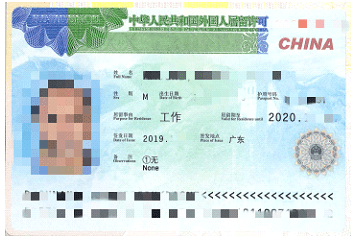 Solutions consultants have provided excellent guidance, leading us to accomplish our objectives smoothly. Their expertise and professional knowledge is one of our key success factors."